NEWS
PUNCTUALITY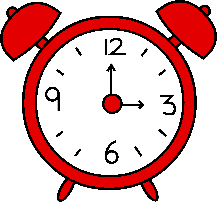 How does this affect children?
If your child arrives late to school, they miss the teacher's instruction and the introduction to the lesson. They may also feel embarrassed at having to enter the classroom late.
Pupils arriving late to school, cause disruption to their learning as well as others, which is unacceptable and can be upsetting for them and their classmates.
Do you know how much learning children miss out on due to lateness?
| | |
| --- | --- |
| Minutes late per day during school year | Equal days of teaching lost in a year |
| 5 minutes | 3.4 days |
| 10 minutes | 6.9 days |
| 15 minutes | 10.3 days |
| 20 minutes | 13.8 days |
| 30 minutes | 20.7 days |
What can you do to help?
School day starts at 8.45am (Reception) 8.50am (Years 1-6) Ensure your child arrives on time.
Prepare school uniform, packed lunches, school bags & breakfast items the night before.
Make sure the alarm clock is set at a reasonable time for getting everyone up and ready.
Leave home with sufficient time to allow for any unexpected incidents e.g. traffic, road works etc.

Punctuality is important for children to start the day off well. If you need support and advice about punctuality issues, please contact the school.
ECS Pupil Attendance Consultancy Ltd working in partnership with… Nazeing Primary School.